"Music Man" – Profile
by David Noh
July 22, 2011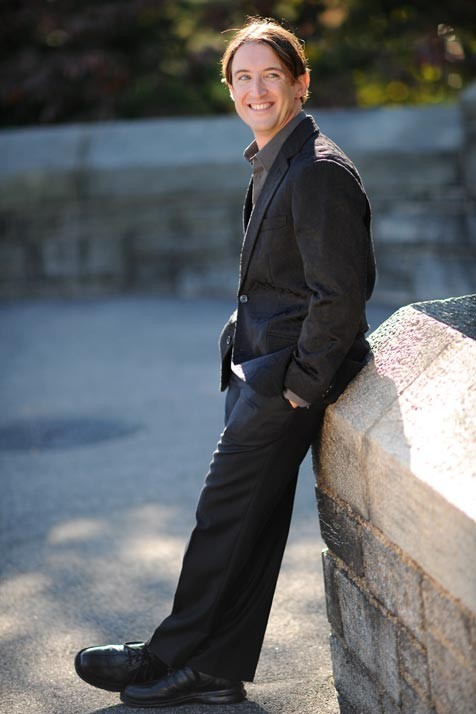 Out gay composer Andrew Gerle recently won his fourth Richard Rodgers Award from the American Academy of Arts and Letters for his musical Gloryana.
I was impressed by the song selections from the show on his website, and was eager to meet him. When I congratulated him for — unlike so many current opera and musical composers — not being afraid of melody, he said, "But that's what music does best! You can't just set conversation to music — that's my biggest pet peeve. Also lyricists who don't focus their ideas into a few syllables so that the music can do things.
"Both my parents were classical performing artists, so I grew up in that whole world of concerts and recordings and I was a classical pianist. I didn't rebel against it. I really liked it. I started at three. There were pianos in the house, so it was like reading — if the parents read, so do the kids. That's what people do — you go home and practice. And I was just OCD enough to enjoy working on something until it was perfect.
"I grew up mostly in Baltimore, with its strong musical community, but for a couple of years I went to Tallahassee because my mom was teaching there. It was a big change and I'm glad I went, as I now have a fondness for the South, which comes through in Gloryana. I like things that are messy, and nothing's more messy than the South — so much that's beautiful to celebrate and also its stain of racial history."
Gloryana is actually two stories, Gerle explained: "One focuses on a racial shooting based loosely on a Tennessee incident when a couple of black teens got into it with a white guy wearing a Confederate flag on his jacket. They fought and a gun went off, killing the white guy. The female president of the Daughters of Dixie comes to the aid of the dead man's girlfriend, which transports us into the world of Southern heritage and ante-bellum balls, and the mother of one of the black kids is an amateur cabaret singer who writes a song about it and turns into a sort of Nina Simone figure, against her will.
"Then there is this teenager who reads all the wrong kinds of Confederate stuff on the Internet and rushes to the aid of the young woman. Interwoven through this are Civil War letters from a Confederate soldier to a Union nurse, something that I discovered often happened in my research, which ties everything together with the modern day. Soldiers would get injured and cared for up North and then sent home, but of course the relationships happened and continued. We're all Americans, and that's what's so fascinating about the Civil War."
Gerle calls the work messy and big "and I was so happy to win the Rodgers Award, which gives me this great developmental opportunity, a grant to do a seven-performance reading, and workshop it."
Gerle, an impressive workaholic, also wrote a musical based on the film Meet John Doe, had an opera, The Beach, which was given a New York City Opera VOX reading, and published a book, The Enraged Accompanist's Guide to the Perfect Audition (published by Hal Leonard). A really useful, witty guide to any aspiring performer, it addresses everything from proper attire to song selection to essential minutiae like avoiding encasing one's music in plastic sheets as they're a pain in the slippery ass for the piano man.
Gerle had the opportunity to work with two of his idols, John Kander and Leslie Uggams, for a revival of The Rink at the Cape Playhouse: "John came in, so enthusiastic, saying, 'This is my favorite score!,' and Leslie was so professional and just killed in that role. She was absolutely stunning, never wanted to stop working — 'Let's do it again!' That work ethic, but so effortless, and she never marked."
Indeed, one should never miss an opportunity to see that living treasure Uggams, who recently stole the Lyrics and Lyricists Comden and Green evening, "Carried Away," at the 92nd Street Y (May 21). Josh Grisetti, Mary Testa, among others, were just fine, but when Uggams entered, in a smashing lilac chiffon gown that looked as if it had been designed by Travis Banton, the entire temperature of the room changed. With those fabulously mellifluous, miraculously undiminished pipes of hers, she sang "My Own Morning," from her Broadway show, Hallelujah, Baby (originally written by Arthur Laurents for Lena Horne) and, again, killed.
Adolph Green's widow, Phyllis Newman, was the evening's host, full of reminiscences, dotted with a few inaccuracies — at the time of her first date with Green (whom she met c. 1956), she said she was reading Valley of the Dolls (which wasn't published until 1966), and that he compared her to Ann-Margret (who wouldn't become a star until the 1960s).
Oh well. It's true now.