The Ever-Indsutrious Andrew Gerle
by Peter Filichia
June 1, 2011
June 1. It's suddenly 2011-2012, the beginning of a brand-new theater season. And while others are still making predictions on who'll win the Tonys on the second Sunday of this month, I'm more interested in making a prediction for this new season that still has 365 days to go.
This'll be the season when everyone in theater comes to know Andrew Gerle.
The name – which is pronounced Gayre-luh – has been on many people's lips in recent years. "My kind of songwriter," says Sheldon Harnick. "One of the most talented," insists Stephen Flaherty. "A brilliant and inventive composer," claims David Shire.
You don't get four Richard Rodgers awards, the Jonathan Larson award and a Burton Lane fellowship unless you are. But none of this happens unless you work, and Gerle makes one believe that he only catnaps and never gets a full night's sleep. How else could he accomplish all he accomplishes?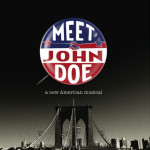 Gerle has written the music for The Tutor (which got no fewer than three Rodgers awards) and Meet John Doe, an adaptation of the famous 1941 film; it's been produced at Goodspeed, Ford's and Porchlight. "Unfortunately," says Gerle, "Meet John Doe is still topical. Idealism vs. corruption in democracy will never go away."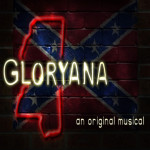 Just writing the music of a musical is apparently not enough. Gloryana is a new musical for which Gerle wrote the book, music and lyrics. "When I started, I didn't know there was a Benjamin Britten work by the same name," he confesses. "But at least mine is spelled differently."
And to think that one reason Gerle didn't go into a career as a concert pianist is because he says he "didn't want to be alone every day in a room practicing. I need to be with people." When you write book, music and lyrics, you spend a lot of time alone in a room.
The original musical spans two eras: the Civil War and our time. In the former, we see a letter-writing relationship between a Confederate soldier and a Union nurse; in the latter, we meet two black Mississippi teens accused of murder. "Although I'm from Catonsville, Maryland, I've spent some time in Tallahassee and summers in North Carolina," says Gerle. "So I've always been fascinated by the horrible – and wonderful – things about the South. The show is complicated, offers no easy answers and shows flawed people: no saints, no perfect people and no storybook romances. The setting also gave me the chance to write Appalachian music, Southern rock, hip-hop and slam poetry."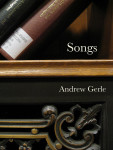 You could have heard selections from all three shows had you attended Say We Flew, a revue of Gerle's material at Joe's Pub this past season. But if you missed it, you get a second chance if you acquire Songs — Andrew Gerle, a handsome 9-by-12-inch 170-page collection of sheet music.
Of course, when you write enough songs to fill a book, you have plenty of people performing them. Gerle has watched many audition for him. "It's amazing to me how many singers are intent on doing it 'right,'" he says, crooking his fingers into quotation marks. "When they audition, I tell them, 'I know I'm the writer, but forget about me. Do something crazy. Take risks.' This is something I especially said in the studio when we recorded my movie musical."
Yes, there's a yet-unnamed movie musical, too. "It's only 30 minutes long," he minimized. This is not to be confused with The Beach, an opera, which recently got an airing, thanks to New York City Opera. "It's about a woman who kept her husband locked up for a year, only to be rescued by his lover's young daughter – and it's a true story," he insists.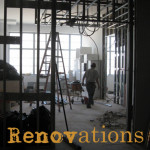 All right, let's move on to Gerle's straight play. Yup, he's done one of those, too, and – you know Gerle — it hasn't been sitting in a drawer. In March, the White Plains Performing Arts Center presented Gerle's Renovations. "It's based on a marvelous book by John Marchese," Gerle hastily adds, lest we think he came up with the idea all by himself. Still, he's the one who dramatized the story in which, as the book's subtitle says, "A Father and Son Rebuild a House and Rediscover Each Other." Lenny Wolpe played the father and Todd Cerveris portrayed the son.
"It's a guy's play, and there aren't many of those around," says Gerle. "Dad's a retired construction worker who insisted on his son's going to college. The son went and became a freelance writer, which Dad thinks is a waste of his education. The theme is that every step the son takes is one that takes him away from his father."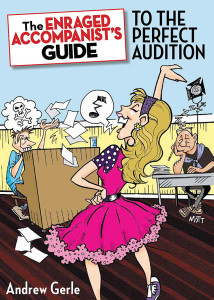 Now let's go on to Gerle's new book. You assume we mean the book of a musical. No: a book book, a trade paperback called The Enraged Accompanist's Guide to the Perfect Audition. And while most writers do a few pages of a proposal before submitting to a publisher, you may not be surprised to learn that Gerle just sat down and wrote the whole 113-page book and then submitted it to Applause Theatre & Cinema Books, who immediately bought it.
Gerle, who's accompanied thousands of auditionees, didn't choose the adjective "enraged" arbitrarily. "You try reading illegible faxes and fighting The Amazing Self-Closing Book two hundred times a day," he snarls. Gerle's seen his share of songs in which there has been "death by a thousand bad cuts." He tells why avoiding that fate is vitally important.
But the book does more than that. It encourages auditioners to be themselves. "Make the people behind the table realize that they want something new: you," he stresses. And by the way, Gerle is such an excellent writer that the book is fun reading for its own sake. If someone who knew nothing about musical theater happened to come across the book in a doctor's office, he might well pick it up and read it right through the end. (That's less a comment on how long doctors keep us waiting and more an evaluation of the riveting writing.)
In his spare time (!), Gerle teaches master classes at Yale. And if all these credits aren't enough, when Quentin Earl Darrington had to confess that he didn't know how to play piano in the 2009 Ragtime revival, Gerle played the new music for him. Not that Gerle has stage fright; when Master Class was done at Paper Mill, guess who was tickling the ivories for Maria Callas' students?
"Like everyone else, I started out as an actor. In high school, I was Marryin' Sam, Nicely-Nicely and Hinesy," says the diminutive Gerle. "I knew I was a very specific type who'd always be cast as the best friend – at best. But that wasn't just what got me out of acting. I found that by writing, I could play all the parts."
Gerle pauses, as if he's afraid he'll be misunderstood by the next remark. "I do the work, and then I feel responsible for it," he says. "Like each one is a kid to which I say, 'I made you, you pretty thing, and I hate to have you sitting there on a shelf. It hurts me.' If I say that it's not about me, that sounds disingenuous, so I'll say that I enjoy having the work done and seeing an audience respond to it." Here's betting he'll have thousands more before he finishes his career.