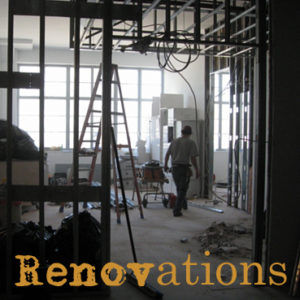 by Andrew Gerle
Anita Gates' review in


March 2011
History
Renovations had its first workshop in Hollywood at The Blank Theater this past March, starring Apollo Dukakis and Dominic Comperatore and directed by Larry Biederman.
Synopsis
Based on the memoir by John Marchese, Renovations follows a burned-out magazine writer as he attempts to re-connect with his construction worker father by renovating a house near his hometown of Scranton, PA. What begins as an opportunity to learn what his father did with his life quickly turns into a revisiting of every argument they've ever had and a reminder of the generational and class barriers that drove them apart to begin with. Told with a cast of four, Renovations alternates between past and present in a humorous and sometimes brutal look at the perils of a father-son relationship.
Cast
JOHN MARCHESE – 40, equal measures urbane and self-deprecating, self-aware and blissfully not, intellectual and successful more the result of a quirk of nature than drive or ambition.
TULLY MARCHESE – 73 and portly, his decades in the construction business are starting to show. He speaks in short outbursts, colored by a gravelly Scranton accent.
One MALE ACTOR to play:
VALENTINO MARCHESE – John's doting Italian grandfather
JASON – one of John's journalism colleagues
DONNY SCARTELLI – late 30s, self-assured and easy-going Scranton native, a construction worker Jack-of-all-trades
A HORTICULTURIST LOU MECKLE – late 40s, a taciturn construction manager and "guy's guy"
A DOCTOR
MR. LOCKS – a grieving father
One FEMALE ACTOR to play:
MIA – early 40s, a cosmopolitan journalist
ROSEMARY – John's mother, mid-late 60s
SUNNY – a well-put-together real estate agent
FLOYD CAMPBELL – a Korean war vet
STORE MANAGER
JAMES PADDEN – John's no-nonsense Irish grandfather The play takes place half inside the house/construction site, and half in memory.