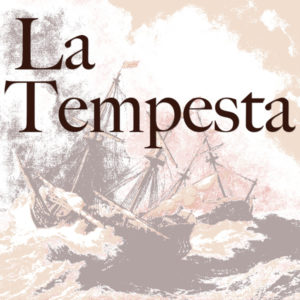 by Tom Jones
and Andrew Gerle
Cast
Prospero, a magician
Miranda, his daughter
Antonio, his brother
Alonso, King of Naples
Ferdinand, his son
Sebastian, his brother
Gonzalo, a wise old councillor
Ariel, a spirit
Caliban, a savage
Trinculo, a jester
Stephano, a wine steward
Musical Numbers
Invocation and Storm
Hear the Music
La Tempesta
I Flamed Amazement
One Day, When It Was Raining
Musical sequence: Full Fathom Five • I Heard a Siren's Song • I Am Human
Oh, What a Sleep
Caliban's Spell
There's a New World
What Is This I Feel?
These Magic Powers
I Do Not Care For Magic
See the Snow • The Lovers' Dance
We Are the Same
We Are Such Stuff
Synopsis
I draw a magic circle in the sand.
Like this . . .
I touch the circle and it turns to light.
Like this . . .
It's filled with possibility,
A journey of discovery,
But only if we both believe
That this can be true.
For the secret of the magic
Lies not just in the magician,
But also inside you.
Thus begins LA TEMPESTA, the new musical with book and lyrics by Tom Jones and music by Andrew Gerle. Based on Shakespeare's play and the famed production by the Piccolo Teatro di Milano, it is the story of Prospero, an elderly magician, formerly Duke of Milan, who was betrayed by his brother, robbed of his dukedom, and put to sea in a rotting ship along with his infant daughter, Miranda, whereon they drifted until they finally arrived at a mysterious, seemingly deserted, island. Now, many years later, all of his enemies come sailing by at one time and Prospero, who has spent these years studying books of magic, creates a great tempest to shipwreck his enemies on the island. The story of the play concerns his revenge and then later, his struggle to free himself from the tempest inside him, the heavy burden of hatred and revenge. When at last he is able to do so, he breaks his magic staff and bids the audience, and the world, farewell.