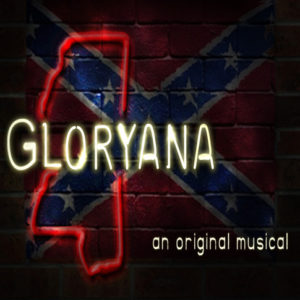 Book, Music & Lyrics
by Andrew Gerle
Winner, 2012 Kleban Award
(outstanding libretto)
Winner, 2011
Richard Rodgers Award
visit the Sheet Music page to purchase PDFs
of the sheet music from Gloryana
History
Gloryana was written in part during Andrew's residencies at the MacDowell Artists' Colony, the Ucross Foundation in WY, and the Rhinebeck Writers Retreat. A full demo recording and script is available – check out my Hear Songs page to listen to a few songs.
Cast & Songs
JEWEL CAMPBELL – Early 30s, hard-edged white waitress who secretly dreams of being Scarlett O'Hara. High belt/mix.
CARINNE SHAW – Justin's mother, early 30s, an amateur cabaret singer fighting for her son. High gospel/blues belt.
PIERCE HAYWOOD – 30s, an idealistic African-American Yale Law grad. Baritone.
VIRGINIA AMES – '60s, president of the local chapter of the Daughters of Dixie. Musical theater mezzo.
MASON LEWIS – A white high school senior from Jackson, a disturbed Civil War enthusiast. Bari/tenor.
NATHANIEL BURNETT – 19, a soldier in the Confederate Army. High tenor. Also plays Jack, a tour guide at a historical site.
CLAIRE DURHAM – 18, a Union nurse. Mix/musical theater soprano. Also plays a Radio Talk Show host.
JAMAL WARNER – An African-American 16-year-old and talented slam poet. Any voice type.
JUSTIN SHAW – An African-American 14-year-old, Jamal's eager sidekick. Any voice type.
RAY BEALS / MR. HOWARD / LATE NIGHT TV HOST – 30, Jewel's sometime boyfriend / the unseen cabaret owner who speaks to Carinne through the intercom. Non-singing role.
Synopsis
Gloryana is an eclectic original musical that tells the stories of two black teenagers in small-town Mississippi who are charged with murder, and five people around them whose lives are turned upside-down as a result. Pierce, the black Ivy League lawyer who has returned to the South to help poor communities, volunteers to represent the boys and discovers he's in way over his head. Jewel, the sometime girlfriend of the murdered man, is suddenly given opportunities to leave her crummy job at the diner and live out her dreams of being Scarlett O'Hara. Carinne, mother of one of the boys and a local cabaret singer, involuntarily becomes a civil rights activist and cultural touchstone after a song she wrote is played on the radio. Virginia, president of the local chapter of the Daughters of Dixie, sees in Jewel a new friend and a way to infuse some younger blood into her organization, while Mason, a disturbed young Civil War fanatic, sees Jewel on TV and vows to protect her from what he sees as the threats of modern society.
As these stories unfold, we hear the intimate letters between Nathaniel Burnett and Claire Durham, a Confederate soldier and a Union nurse, as they get to know each other during the final months of the War that has torn their families and their country apart.
Are we defined by our heritage? Where we're born? Or can we transcend our history, as individuals and as a nation, and re-invent ourselves? With a score that ranges from traditional musical theatre to hip-hop, spirituals and gospel to folk and country rock, Gloryana takes a candid look at how race and cultural differences can tear us apart – or bring us together.
Musical Numbers

Act I
1 Not Workin' For Me
2. From the Heart
3. Comfortable Lovin'
4. I Will Be That Man
5. Being a Motherrinne
6.That's What Makes a Home
7. Glory
8. I Remember
9. What Doesn't Show / I Remember Reprise
10. I Need To Know
11. My Chosen Road / Detonate
12. Lee Memorial
13. Being a Mother (Reprise)
14. Why Ain't We Angry?
Act II
15. The Wrong Dress
16. The Dumbest Black Man On the Planet
17. Soon It Will Be the Springtime
18. What We Were Born To
19. The Wrong Dress (Reprise)
20. I'm Them My
21. Chosen Road (Reprise)