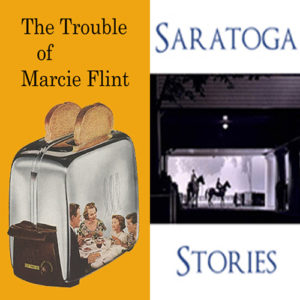 Brighter Things

Book, Music and Lyrics
by Andrew Gerle
visit the Sheet Music page to purchase PDFs
of the sheet music from Brighter Things
History
Based on the Pulitzer Prize-winning stories of John Cheever, Brighter Things is a pair of one-act musicals: Saratoga Stories and The Trouble of Marcie Flint. Both musicals are for a cast of five men and four women. The Trouble of Marcie Flint was performed by actors from New York University and The Juilliard School as part of FreePlay2K, a festival of new work sponsored by NYU's Graduate Acting Department in 2000.
Saratoga Stories

Old and new money, gamblers who want to go straight, and love new and rekindled interweave in the glamorous gambling mecca of Saratoga Springs, New York, in May, 1938. The Dexters' money has run out, but their daughter Lila might be their salvation, due to the unexpected appearance of the wealthy English bachelor Lord Napier Devereaux. Roger Gaige, a boisterous young gambler, falls for the elegant shill Judith Bereston, and they revel in the discovery of their shared childhoods at the track. They vow to come clean, but find living society's strait-laced dream is harder than it looks. In the end, some strike it rich, some find their way, and they all fall in love.
Songs
Won't You Have A Dream With Me?
They Haven't Changed A Thing
Tell Me Everything
Pendleton
At The Races
Suitable
I Thought I Should Tell You
And…
Protecting The Dream
Why Was I Surprised?
I Wonder Where Lila Is?
Won't You Have a Dream (Reprise)
The Trouble of Marcie Flint

The story of Charlie and Marcie Flint and their two children is told in a series of fractured flashbacks. It is 1952 in Shady Hill, New Jersey, and Marcie searches for fulfillment and happiness during the long stretches her husband is out of town on work. When her attempts at civic involvement and self-improvement go disastrously astray, she befriends a soft-spoken young father from the housing development across the tracks. Charlie, lonely and unfamiliar with his children, has the best of intentions and vows to spend more time with his family, but a near-tragedy brings the Flints' house of cards crashing down. Their attempts at having the perfect life prove to be their undoing, but one of them, at least, still has hope for the future as the curtain descends.
Songs
A Place In The Sun
Nocturnal Industry
How I Wish There Were More Time
Picture Windows
The Public Library
Up
Laurie Lunchbox
Things To Say / I Had Dinner / Up Reprise
Meatball
Together
Love Is For Today
Characters
Woman 1 (Nightclub singer, etc.) (age 30)
Tilly Pendleton Dexter (50s)
Lila Dexter (mid 20s)
Charles Dexter (50s)
Man 1 (Croupier, Auctioneer, etc.) (late 30s)
Joe Clancy (30)
Judith Bereston (late 20s)
Roger Gaige (30)
Napier Devereaux (late 30s)
Marcie Flint
Woman 2 (Mrs. Selfredge, Mrs. Timmons)
Woman 3 (Cheryl Wryson, Librarian)
Man 2 (Lecturer, Mayor, Mr. Timmons)
Charlie Flint
Man 3 (Bill Wryson, Doc)
Woman 1 (Katie Flint, Houston Woman)
Noel Mackham
Man 1 (Henry Flint, Mark Barrett)