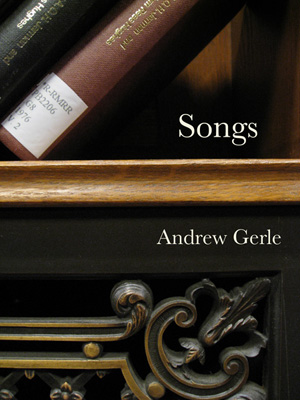 "Andrew Gerle is my kind of songwriter. These beautifully crafted songs are marked by a sense of freshness and adventure that I greatly admire"

– Sheldon Harnick (Fiddler on the Roof, Fiorello!, She Loves Me)

"These are characters with humanity and humor, written with precision and subtlety. Andrew's songs make strong, specific promises – and then take delightfully surprising turns on their way to fulfilling them."

– Rachel Sheinkin (The 25th Annual Putnam County Spelling Bee)
That's right! From the printers in Pennsylvania to the bindery in Big D, boxes of my songbooks were trucked into town and are ready to find new homes. I absolutely couldn't be happier with how they turned out: 170 pages, 22 never-before-published songs, indexed by voice part and by show, including:
from Meet John Doe:
"I'm Your Man"
"Before You"
"Perfect Days"
from Gloryana:
"Glory"
"Being a Mother"
"The Wrong Dress"
from The Tutor:
"Me Artist, You Rich"
"One More Thing (I'm Gonna Leave Behind)"
"Don't Eat Your Friends"
and Cabaret Favorites:
"Still Life With Cigarette"
"This Is a Song"
"Cabaret Girl"
"The Public Library"
As someone who's played from every conceivable type of music book, I went all-out in the binding and printing of this book, and it was all worth it. Pages are sewn in, and the bindery used a process called Otabinding (who knew?) that allows the book to lie flat on the music rack. For all you other Enraged Accompanists out there, no batting pages back while you're playing! The cover is laminated, as well, so this book will stand up to anything you throw at it (well, maybe not wine – please send that directly to me).
I'm thrilled that this will be my first published musical ambassador into the world. On behalf of myself, and my collaborators Eddie Sugarman and Maryrose Wood, enjoy and SING!