PREMIERE IMMINENT!
With the World Premiere only days away, excitement is gathering, previews are selling out and there's a flurry of press anticipation. Read some of the buzz in the Washington Post, Playbill, and at American Theatre Web.
Productions announced!
MJD will receive a workshop production this November at Goodspeed's Norma Terris Theater, followed by a spring, 2007 production at the Ford's Theatre in Washington, DC. Both productions will be directed by Eric Schaeffer, artistic director of the award-winning Signature Theatre in Virginia. Read the Playbill article here! Casting has already begun; stay tuned for updates.
MJD Makes National Tour!
In January, Eddie and Andrew went to Theatreworks in Palo Alto to sit in a big room and work, work, work. The result: four new songs including a great new love song for Ann and John and a fun duet for Beany and the Colonel called "Money Talks".
Next stop: Akron, OH, and the Carousel Dinner Theater, where we had a week-long workshop with a combination of terrific New York and local actors from nearby Baldwin-Wallace College. With director Joe Calarco, we cut and rewrote, cut and rewrote, and at the end of the week, presented our new baby for 500 or so mostly real live theater-goers! We were relieved to see that they all laughed, gasped and cried at the appropriate moments.
From there, we went straight into rehearsals for a full student "skeletal" production at the Hartt School in Hartford, CT. Again, we were able to do major rewrites (does he jump? does he live? we'll keep you guessing till we open on Broadway!) and had the pleasure to work with some very talented young performers under the direction of Henry Fonte.
NAMT a huge hit!
NAMT came and went in early October '05, and it was terrific. Andrew and Eddie attended several of the festival's seminars, schmoozed at the cocktail party, and of course, presented a 45-minute cut-down version of the first act for two packed houses.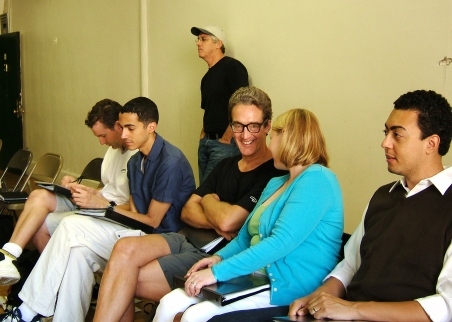 Greg Stone, Peter Roman, Michael Rupert (standing), Guy Paul, Mary Jo McConnell, Graham Stevens.
The relationships formed during this weekend have led to three wonderful developmental opportunities for the show over the next few months. First, the writers will fly to Palo Alto, CA, for a writer's retreat at Theatreworks, where they will make some adjustments to the first act and start work on their next show. Then, during the first week of February, they will head to Carousel Dinner Theater in Akron, OH, for a one-week workshop of the entire piece. Finally, in March, the Hartt School of Music in CT will present a scaled-down full production, and Andrew and Eddie will be in residence for part of the rehearsal process.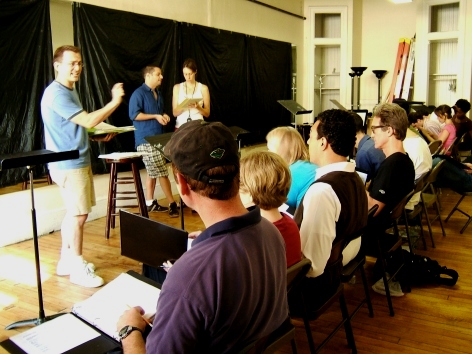 Eddie covers some meticulous detail with the cast, while director Joe Calarco and stage manager Erin Craig look official.